Search Engine Marketing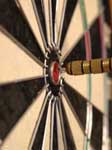 Search engine marketing (SEM) is one of the primary ways that a website can maximise visitor traffic from the web at a potentially low cost.
That's because when your site attracts relevant visits from web users who are actively looking for your product or service, it can help to provide your site with qualified business leads - making search engine marketing the best strategy to follow as a core part of your online marketing activity.
There are 2 ways to get your website visible on the main search engines. The best long-term solution is through SEO, or search engine optimisation, whereby your whole website is used to target a range of relevant search terms, combined with structural factors, that will help your site rank well. The second - and more immediate - option is to use PPC or pay-per-click advertising - such as Google AdWords - which displays your listing within the sponsored results on the main search engines. Both techniques have distinct advantages and can be used alongside each other to ensure the best coverage of your relevant search market.
We review the use of search engine optimisation and pay-per-click advertising in more detail within this section of the website, including how these techniques can be used for local search marketing. We also cover the importance of link building for your website and how this can support your search engine rankings, plus if you want to develop your search engine marketing skills in-house, we offer a number of SEM training courses to get you started.
Making search engine marketing work for your website
Successful search engine marketing is now, more than ever, a vital part of any website business strategy. Companies are quickly becoming aware of the possibilities of achieving a good search engine visibility, so that spend on website optimisation and pay-per-click advertising continues to grow at a rapid rate. However, the increasing number of websites competing for top rankings also means that it is becoming even harder for your business to get noticed on the web.
This is where Web Marketing Workshop can help you make the most of your website investment. We have specialised in search engine marketing since 2000, through our sister company Web Search Workshop.
As search engine optimisation and pay-per-click marketing specialists, we can help your website to achieve high search engine rankings to attract targeted, relevant traffic from your potential customers on the web. In doing so, your site will discover one of the most cost-effective ways to generate new business, either online and offline.
Please contact us to discuss the search engine marketing opportunities for your website, or simply request our FREE marketing assessment to discover how your website could be benefitting from these techniques now.