Planning an effective website
Developing a new or updated website can be a major task that will require significant resources of time and money. So getting the initial planning process right will help the project run more smoothly and will often mean that costly revisions can be avoided in the future.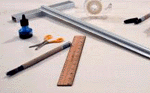 Before beginning a website design, you should be clear about the site's objectives and how your target audience might use it. What structure and content will the website need and how will it perform its tasks most efficiently? It needs to be attractively designed as well as functional, with clear navigation, good usability and also effectively optimised for search engines.
The importance of planning is essential for the initial development of a new website and for its medium to long term usage so that any additional sections or functions may be added when required. With all this information in mind, you need to prepare a site map diagram and identify what information will be included on all the sections and pages before briefing a web designer to begin the creative work.
Some issues to consider when planning a new website
What are the main objectives of the website and how will these need to be achieved?
How do competitive websites compare in what they offer?
How will the site be structured and the copy be used to create the results required?
How is the site expected to develop and expand in the future?
How effectively will the site be able to get indexed by search engines?
How the Web Marketing Workshop can help
We work with a number of recommended website designers and web development agencies to produce websites for different market sectors and to suit different budgets. We can therefore identify the best company to create your new or updated website, or we can work with your own developers to achieve the best solution. As part of the strategic planning of your website we can provide effective support to meet your online marketing objectives, including:
Identifying and agreeing your online marketing strategy so that your new website will target your objectives.
Managing the website planning, design and development, either with our own outsourced partners or with your preferred suppliers.
Planning the structure and content of the site, including navigation structures and a site map.
Copywriting the content, from the text on each page to the optimised metatags to help develop your search engine optimisation.
To find a more about how the Web Marketing Workshop can help you develop an effective new website for your business, contact us now for more information or simply request our FREE marketing assessment to get an idea of our approach.