Website design & development
For any online business, the website is likely to be the hub around which all the Internet marketing activity will be based. Therefore achieving an effective website design and planning for ongoing development will be a crucial issue. That's because, regardless of how much visitor traffic may be created, if the website is not easy to use or does not reflect the branding of the company effectively, then new business leads and sales will be lost.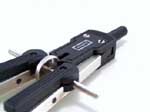 Your business website is also the element that can take up most time and often budget, either to develop in the first place or to maintain as an effective online tool. It's therefore vital that the site is planned in advance, with your long-term strategy in mind. It needs to be integrated with any existing offline business and it needs to convert visits to sales as efficiently as possible.
Creating the best website for your business
The Web Marketing Workshop can help your business with the process of your website design and ongoing development. We don't have an in-house design team, but we work with a number of recommended partners who can offer a range of website design and development services to suit different budgets and requirements. We can therefore tailor your needs to the most appropriate supplier and manage the process with the ultimate aim of effectively marketing your business online.
Website design can often be a time-consuming and complex task, as well as being a unique process for each online business. We've outlined some of the main elements that you may need to consider as part of your web design programme.
For example, we look at:
If you would like further information or an initial consultation or web design quote from the Web Marketing Workshop or one of our partners, please contact us now for an initial discussion, or simply request our FREE marketing assessment and we shall be pleased to discuss your requirements or send you some recommendations for action.