Effective copywriting for websites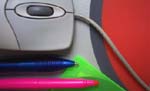 The content on a website plays a key role in attracting and retaining visitors on a site and leading them through the main objective, whether to make an enquiry or buy a product or service. And since the web is a highly 'visual' medium, the copy on a website needs to be effective within an instant.
Copywriting for websites therefore requires a different approach to other marketing media, although the objectives remain much the same - to create interest, leading to the site visitor's desire in the product or service being offered and, ultimately, to follow through to an action with the company.
Website design and branding will say a lot about your business, but copy is just as important - if not more so - in demonstrating your online credentials and helping to achieve your objectives.
Website content is not the only place where effective copywriting can get results. To get people to the site in the first place requires focused marketing copy, whether through content used for search engine optimisation or within pay-per-click advertisements, or from press releases or email marketing campaigns. The tone and content of the message should then be reflected on the website to lead the user to the required objective.
How the Web Marketing Workshop can help your website content
Using our experience from developing and working with a wide variety of business websites, we can advise you on your site content or implement the copywriting for you from a marketing perspective to focus on users and search engines.
Contact us now to find out more about how we can help with your website design and copywriting, or request our FREE marketing assessment to get a wider view of how we can support your online business.